From Complicated Machinery to Simplified Icons
Share Workouts and Support Friends
A designated platform to share your workouts and motivate yourself and friends.
Customized Workouts
Based on your physical activity and resources at your university's gym, ConFITdence will create a routine built just for you.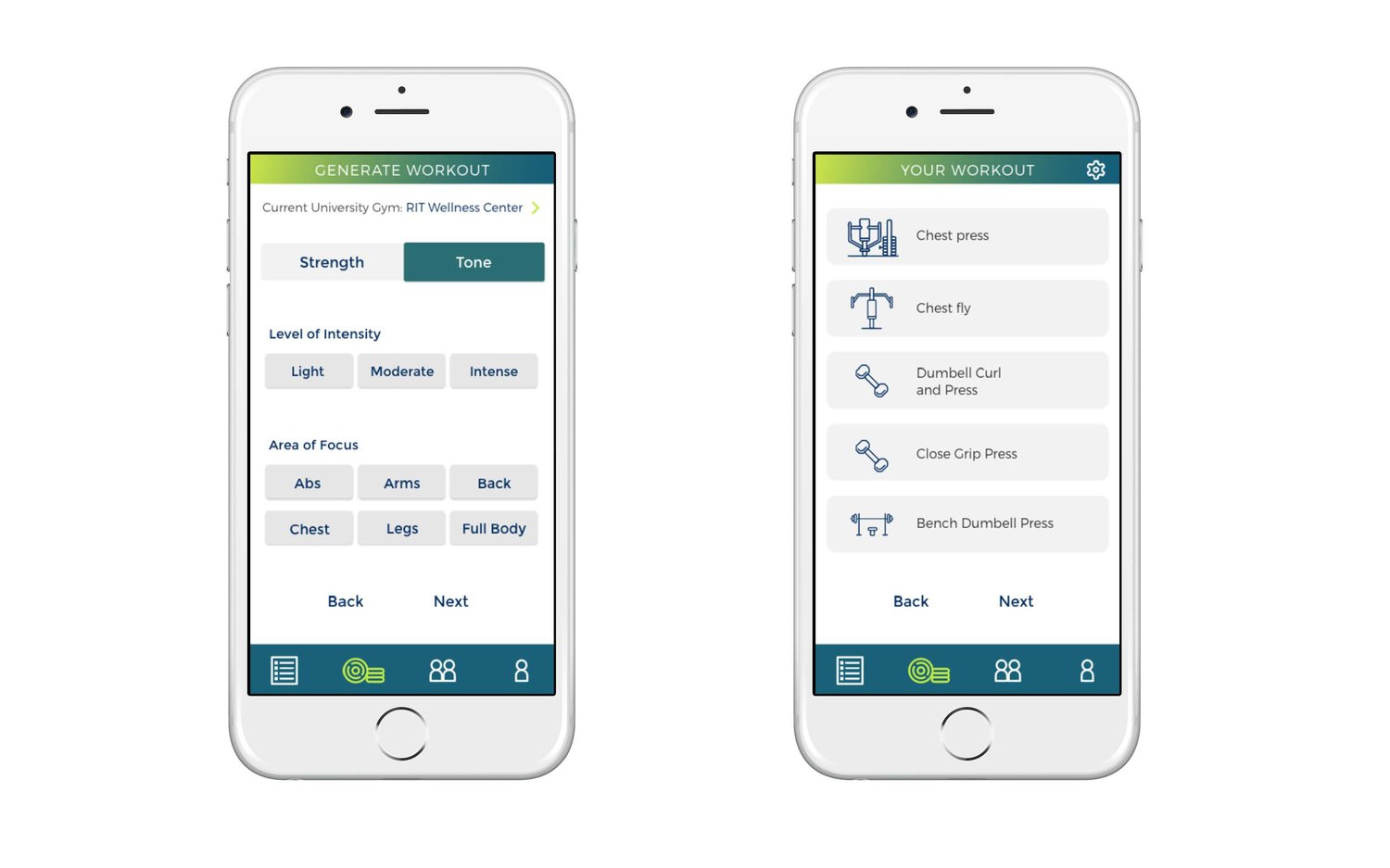 Perform with Confidence
With easy to understand diagrams, there is no more questioning whether you are performing a workout correctly.
Track Your Progress
A summary of each workout is created once complete, with total weight lifted, calories burned, and what muscles you worked. ConFITdence keeps a record of your workouts. You can visit old workouts and visually see your progress.
Find Your Swol Mate
Working out with friends can be an excellent motivator. ConFITdence recommends gym buddies based on workout routines you complete. Don't see someone? No problem, search them and request a date and time to hit the gym together.
Find Your Perfect Pair
Paired Paws' website allows you to meet the doggy duos that are up for adoption, learn about the organization, adopt, and shop!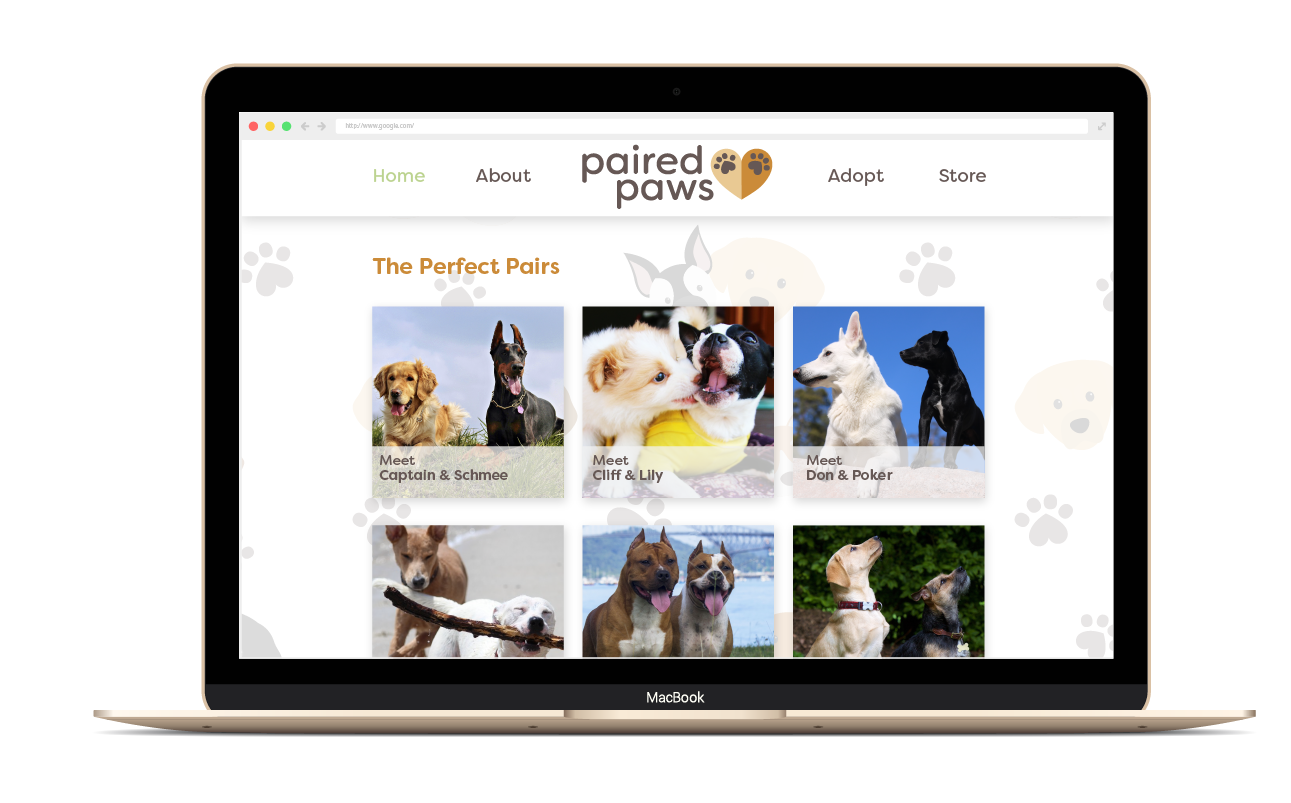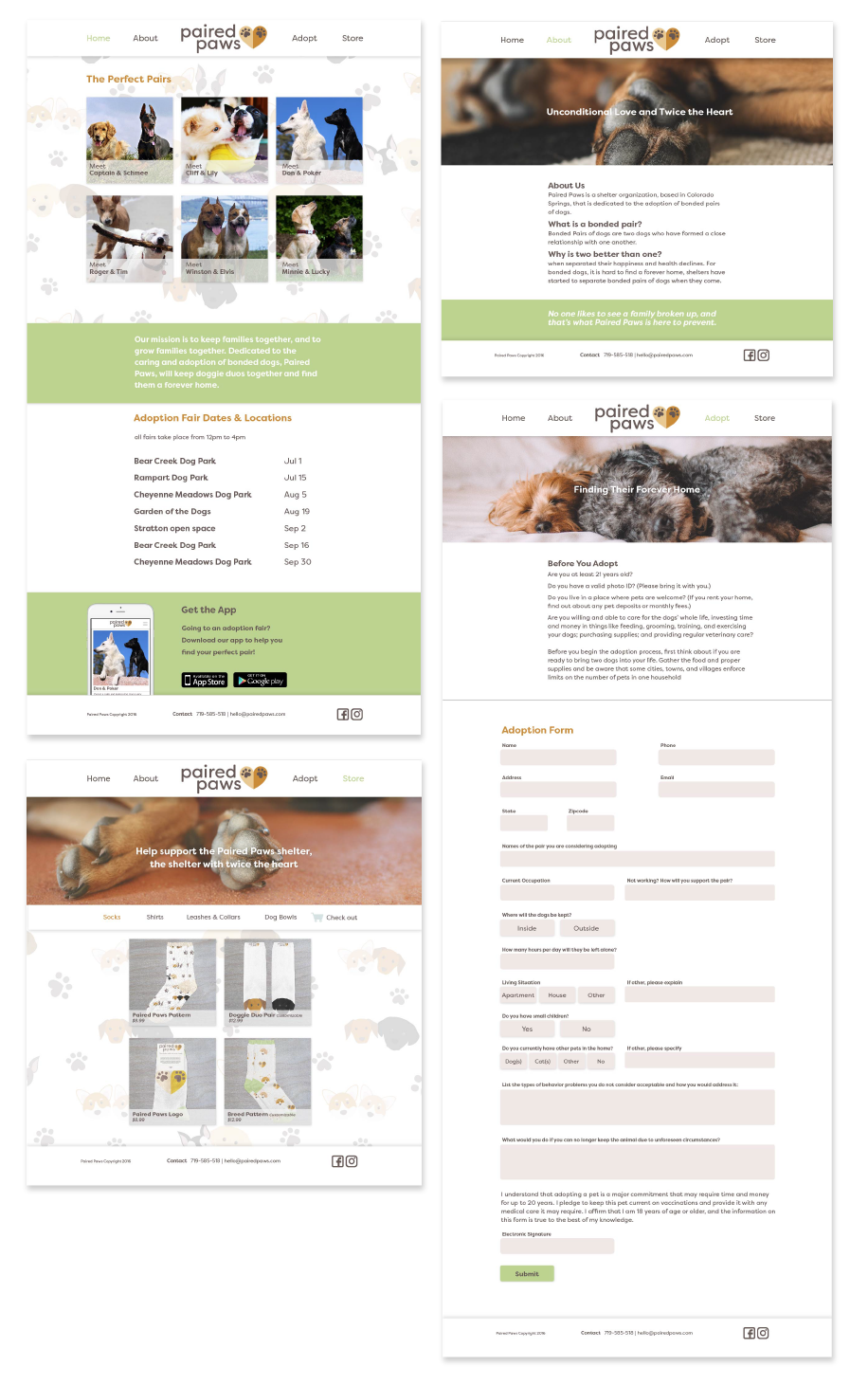 Its like a dating app... But better!
Paired Paws hosts adoption fairs at local dog parks to give people the opportunity to meet the pairs. At the adoption fairs, patrons are encouraged to use the Paired Paws app. Fill out the form and you will matched with pairs up for adoption. Read their stories and learn their personalities. Once you select the pairs you would potentially like to adopt by taping the heart icon, you can set up a meet and greet time.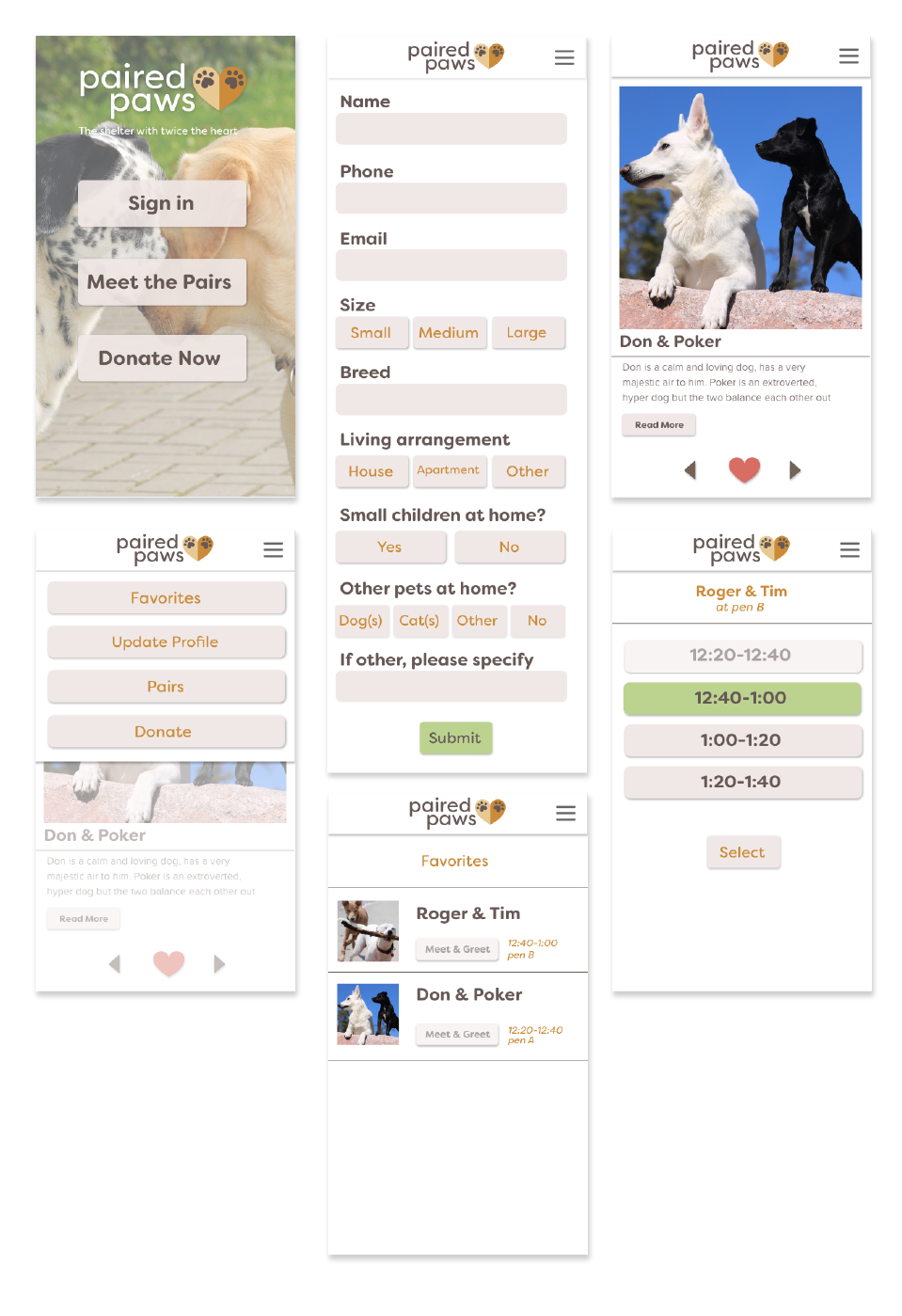 Socks come in pairs, just like our dogs
To help support the shelter, Paired Paws has an online store that can be reached through their website. Sticking with the theme that "two is better than one" all merchandise are objects that come in pairs, like socks! You can also purchase dog supplies for two-for-one deals.

On The Web
Banshee's website makes information about the company and it's products easily available to potential investors and buyers.
Mini Size, Massive Capabilities
See what makes the Banshee highly effective when it comes to disaster relief, as well as additional features that can be added on to each model.
Who They Are, Where They've Been and Where They're going
Learn about Banshee's core values, where their services have been successfully used, and see videos and demonstrations of the Banshee in action.
The theory of multiple intelligences was developed in 1983 by Dr. Howard Gardner, professor of education at Harvard University. It suggests that the traditional notion of intelligence, based on I.Q. testing, is far too limited.
Dr. Gardner proposes nine different intelligences to account for a broader range of human potential in children and adults.
By understanding and encouraging these learning styles, people are able to grow and improve their capabilities in school and in life.
Naturalist
Naturalist games encourage users to tap into their instinctual side, becoming more aware of their surroundings and their understanding of the natural world.
Linguistic
Each of the games requires the the understanding of verbal and written language.
Spatial
Spatial challenges test a visitors' ability to invent and interpret images in their heads, bring those thoughts into reality and unlock their creative side.
Bodily Kinesthetic
Each activity is geared toward a physical line of thought, encouraging visitors to move through activities.
Logical-Mathematical
Logical-Mathematical challenges visitors to enable their strategic thinking skills to finish tasks.
You Are Brilliant
Visitors will leave our exhibit with an understanding that each one of them is "Brilliant" in their own right.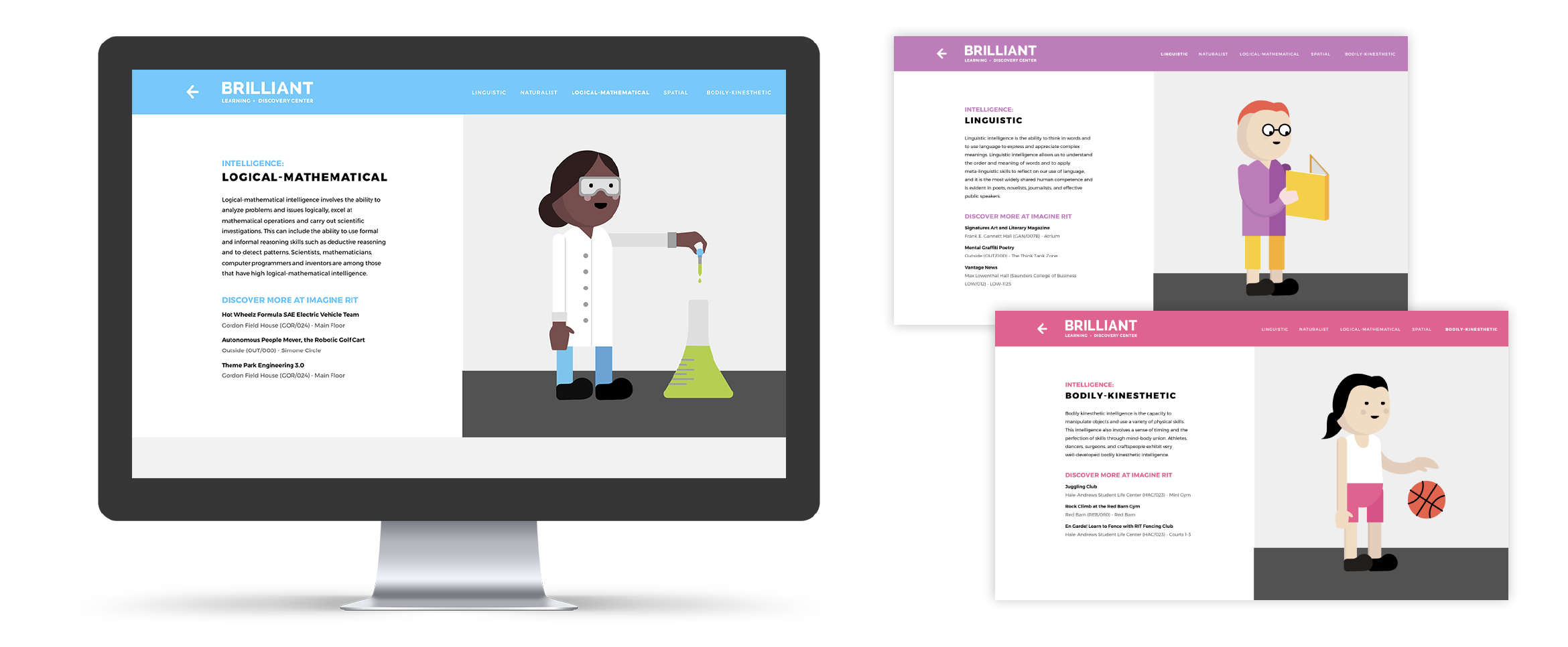 The Results:
Over 200 people come through and participate in our exhibit. We kept an active graph of all of our participants results, and wrote (to whom it applied to) their major or occupation on the back to see if there was any correlation.